I'm very pleased to have Angie Devenney photographing alongside me again this summer. Angie, who started as an office assistant in September of 2007, also shot with me in 2008. Proficient in Adobe Photoshop, Lightroom and InDesign, Angie is also involved in editing, print making and album production.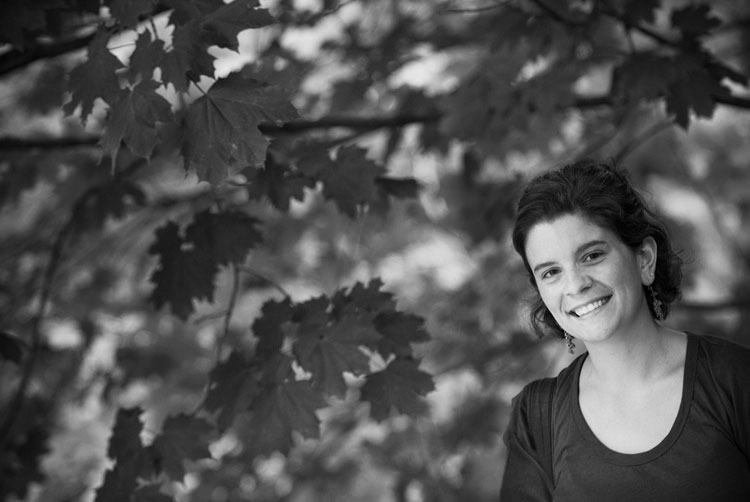 This is actually not her first foray into professional photography; during the summer of 2006 she assisted Boothbay Harbor photographer Bob Mitchell at weddings in the Boothbay Harbor-Southport Island area
It's probably envitable that Angie, who grew up in Jefferson (near Damariscotta), would end up working in some aspect of the arts. With a painter mom (Mary) who teaches high shcool art at Erskine Academy in China and wrote a rap song about the principals of design and a dad (Joe) who is an accomplished Maine stock and marine photographer with work published internationally, creativity is in her genes.
Informally, her immersion in art started at an early age, as both of her parents are also professional potters; many summers were spent making vases, urns, etc., that Mary and Joe sold through craft fairs, co-ops and as custom orders. Angie and her younger sister, Nina, helped out, "decorating" pieces with brown scribbles.
Angie's formal training was at the Massachusetts College of Art and Design in Boston, where she took courses in a wide range of discliplines (sculpture, glass, jewelry, ceramics) while pursuing a major in photography. With a focus on fine art photography Angie studied printing techniques, large format cameras and alternative photographic methods. During a semester abroad, she studied at Burren College of Art in Ireland, where she experimented with natural materials and mixed media, including this meticulous arrangement of flies: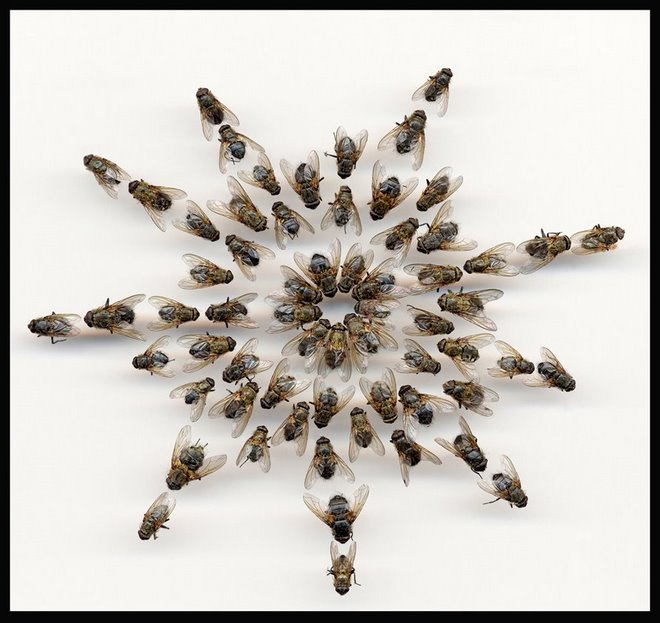 Immediately after college, Angie took a summer off from the arts to travel to Sitka, Alaska, where she worked at the Alaska Raptor Center, a rehabilitation center for injured bald eagles and other birds of prey on Baranof Island. Perhaps it wasn't a total vacation from the arts, as she felt compelled to photograph the "cute, fuzzy mice" stored on site for feeding the center's hawks, kestrels and owls.
Leaving Alaska before winter set in, Angie returned to Maine, settling in the Portland area, where she managed an after-school arts program for elementary students, an experience which made her pretty handy with pipe cleaners, popsicle sticks, Elmer's glue and glitter. In the meantime, she continued to pursue personal work in photography, exhibiting in galleries accross the Northeast, including the Portland Museum of Art (Biennial Show), and juried exhibits across the nation. She has a show which opens next month at Khaki Gallery in Boston's SOWA arts district. More details about the show are at Angie's blog.
In her spare time she enjoys travel, camping, hiking, cooking, printmaking, alternative photographic process, and mixed media. And, most recently, she and fiance', Tim, tackled the challenges of home ownership, buying a circa 1864 cape in South Portland, where they are painting, rehabbing hardwood floors, and gardening.
Below are two of Angie's images from 2008 Commencement at Bowdoin College, one shot from ground level in front of Massachusetts Hall, the oldest building on campus, and the second, shot from the roof of Hubbard Hall, a campus landmark.